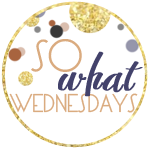 So What! if:
I dont love Lady Gaga, but if 'Applause' comes on during a run, I kick it up a notch and even throw my hands in the air a few times.
My sweet daughter went pee pee on the potty once this weekend and her prize was a new "brella" and a purse.. She asked to get out of the pool to do it, grown ass people dont even do that! She's had a big week for first, dentist, finally going in the ocean and pee pee.. She earned that "brella"
I am still gaining weight even though I have been eating properly and have ran or gone to boot camp (or both) every day since Saturday.. Aunt Flo is in town, so if this shit isn't under control by the weekend, I am going to lose my mind. But as a reminder, I used to look like this, so I just need to get over it!
My running pace is still slow, taking the summer off was a really BAD idea. But I am out there, I am in love with running again and come hell or high water I am finishing my half on Sunday with my head held high!
Link up so I can find out what you are saying So What! to this week!