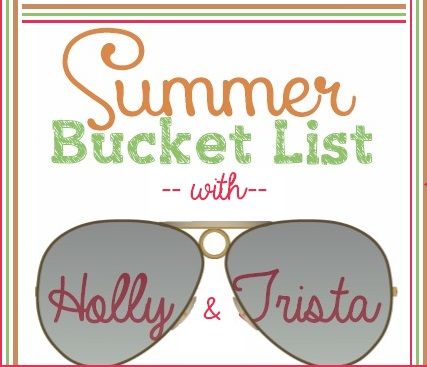 Linking up with
Holly
and
Trista
today for their Summer Bucket List. I am loving reading every one's vacation plans. So grab the button and link up so I can be jealous of all that you are doing!
I am little afraid to write all of this down because I'm pretty sure we are going to be busier than I think, I'm just not ready to admit it yet. Also I may have to hop on the pole next to Holly for some dolla dolla bills y'all... Maybe Bravo can just make a Real Housewives of Blogland...
One thing on the bucket list that I just don't think is going to happen is a game at Fenway... We have been talking about this for a while and really want to get a game in there before they go build a new fancy stadium somewhere. For now, this will just have to go in the maybe column.
For us Floridians it's pretty much summer all year long and technically my hectic "Summer" schedule started in May. But here is what we have coming up!
I haven't been to a good country concert in a while, looking forward to seeing these guys.
Rascal Flatts and The Band Perry June 8th



10 year old Andrea starts to squeal whenever she thinks about this little gem.
June 22nd!
We usually have a few pool party/BBQ's to attend for the 4th and this little guy is turning 6 that same week!
My dad turns the big 60 in July and since he doesn't read this blog, I'm really hopeful that I can make the trip to Arizona to be there for it!
For those that don't know me very well, rugby is a big part of our lives, my father in law played for many years, my husband has played since he was 5, my kids (let's face it, probably just Amelia) will play. So the summer is always filled with rugby tournaments. My favorite is in Fort Myers Beach at the end of July. The tournament is called
Beerfoot
if that gives you any indication as to what it is like!
August brings even more fun rugby times along with my husband and father in law's birthdays.
headed to Charleston, SC for the Rugby World Cup Qualifier
The first FAU football game of the season is 8/31 and officially kicks of our tailgating season in Miami.
That brings us to September and the two best trips of them all. First to St Augustine, a place I have been dying to visit. We are going to a small festival to see FUN, Edward Sharpe and Mumford & Sons, no biggie!
Last but certainly not least to close out September and our long summer, the entire Devonport clan is headed to England for a family reunion. If my husband thought Arizona flights with the kids were long, he's in for it come September!
Taking the train to September one of the days!
Throw in a few trips to Universal and some sporting events here and there and I am definitely going to need to find an additional income for all of this!
Be sure to follow me on Instagram, I'm doing a giveaway when I hit 250 followers!