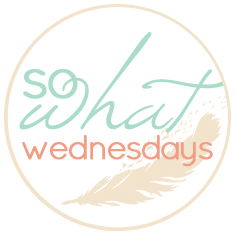 Shannon over at
Life After I "Dew"
hosts this weekly linkup. Her So What lists are always a laugh, go check her out.
SO WHAT if....
- I haven't posted in about a week
- I never wrote about my Half Marathon experience because I have mixed feelings and don't want to be a Debbie Downer
- It gives me anxiety that the previous line went over to a 2nd line... OCD much
- My medal from my Half is still in my purse & I show it to someone daily
- I was supposed to start my 10 day cleanse on Monday, but a family crisis put that on the back burner
- Amelia will only call "Liam" - "Buddy"
- We only have about 2 weeks of cold here per year and not even consecutively, but I am already over it "dipping" down into the 40's and 50's
- The family hasn't been to a Spring Training game all together yet
- I haven't washed my hair in 3 days and probably look like Medusa
- Amelia has inherited my insane shoe obsession
- Liam uses better descriptive words than I do, ie nibble, difficult, distracting.....
I swear to Sweet Baby Jesus that my giveaway will be up on this blog tomorrow. Pinkie swear!
We are moving so I am full of excuses on why I haven't blogged, but you've heard them all before, so hang in there!