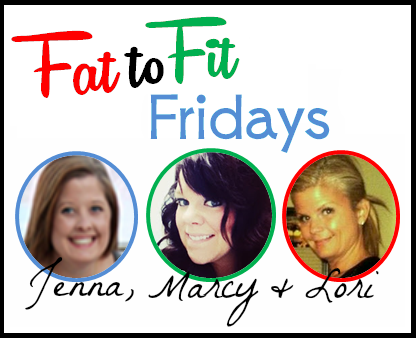 I love link ups. Especially in times like now where my life is so crazy busy that I cant even put an original thought together for a post.
Marcy
,
Jenna
and
Lori
are hosting a weekly link up about all things getting fit, whether that be ups, downs, recipes or ways to keep each other motivated.
This honestly couldn't have come at a better time for me since I really need to set some new goals to get my ass in gear again. After I ran my first half marathon last month, I have literally fell off the wagon. I have only ran once and don't even get me started on my eating habits, its disgusting!
So my excuses:
No Goals = No Motivation
Moving a family of 4 = a mess of a kitchen and plenty of "quick" meals
Laziness = big fat ass
So that being said, this being the first week of the link up and all, I am going to set some real basic goals for the next 6 weeks which will take me to my sweet little Amelia's 2nd Birthday weekend. I have about 20 or less (not sure since I haven't stepped on scale in about 2 weeks) pounds to lose to hit my goal weight of 150 lbs.
1. I will NOT eat any fast food for the next 6 weeks
2. I will run at least 3 days per week
3. I will sign up for 1 more 1/2 Marathon before our nasty humid summer knocks me down
4. I will do weight training/cardio every morning at 5am with Jillian and friends
5. I will hit up hot yoga at least 2 nights a week, preferably 3.
6. I will NOT weigh myself, I will take some before pictures and measurements, but the torture of the scale is just too much sometimes.
On Friday May 3rd my post will be all about how successful I was hitting these goals! My reward is to pay someone to do a blog design for me. So holla at your girl if you know someone!
Until then, next Friday I think I will hit you hard with some before photos and a little back story on how I shot up to 241 lbs about 6 years ago.