So since I have so many random things to talk about today I figured linking up with Jena over at Recently Roached and Katie at Katie Did What for 'This 'n That Thursday would be perfect.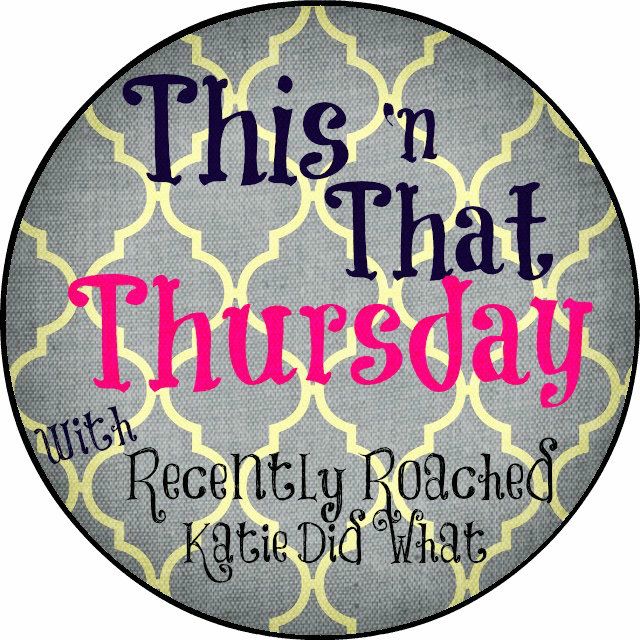 This:

The Princess 1/2 is sneaking up on me now. It's funny looking back how little faith I had in myself. I signed up in September and it appears that I ordered a large race shirt when I actually wear a medium now. Guess I didn't see myself dropping another 20lbs or so by race day.
That:
My husband has a SERIOUS sleep walking/sleep talking and recently discovered sleep uncontrollable sobbing problem. It seems to occur mostly when he is sick or super tired. Last night was probably a combo of both. I wake up first to him standing at our bedroom door opening it, peeking out and then closing it. He did this several times before we had this conversation:
Me: babe, what are you doing?
Ross: I am waiting for Liam to wake up for school
Me: it's like 2am, he doesn't need to be up for a while
Ross: <zzzzzzzzzzzzzzzzzzz>
By this time he is back in bed and sleeping again.. (oh to sleep like a man). Then a bit later he is full on sobbing in his sleep. I wake him up and have this conversation:
Me: babe, whats wrong, why are you crying?
Ross: I'm not crying.... <zzzzzzzzzzz>..... <sobbing again>
Me: babe, seriously whats up?
Ross: <zzzzzzzzzzzzzzzzz>
Then of course I am up for hours because I cant just fall asleep after his little episodes. I wake up this morning and apparently he had enough of Amelia's sleep talking (yup her too) because the baby monitor was unplugged and under his pillow.
This:

I am having a really hard time getting myself to get work outs in. I want to run, but I am so lazy right now. I feel like I need to change things up and add in some new work outs. Do you have a class you love at the gym? A pinterest workout or DVD that you LOVE? Help a girl out please.