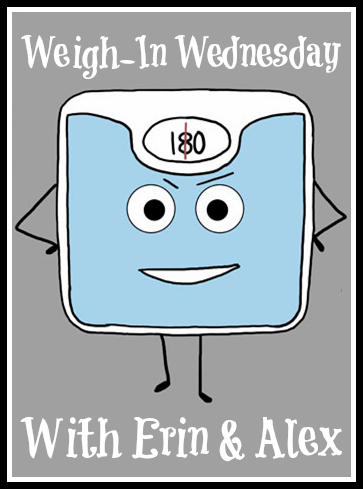 So since my weigh-in day is
everyday
Wednesday I decided it would be fun to link up with
Erin
and
Alex
for their weekly weigh-in.
This week like many others I was trying to get off my holiday weight. Well I did that and then some with a 5.2lb loss! I am beyond excited about that. So I am now at the point where I have only 16lbs left until I hit my initial goal of 150! So what did I do different this week that helped push me over the edge? I wrote a song about it. Like to hear it? hear it go.... (anybody? Bueller?)
First, I changed my eating habits.
I watched a story
, I think on 20/20 a while back about a woman that ate her largest meal like a dinner for breakfast, then a sensible lunch and then something small for dinner, with snacks in between. So this week I have tried that mentality, also cutting carbs after lunch. Working on my fitness has been part of it as well. I started back at hot yoga and I have been running everyday.
So what am I going to do this week to hit a big loss and keep on track to lose these last 16 lbs?! Well to start I am going to go to the gym at least 2 mornings during the week at 5am. Do I want to do this? NO! Do I want to lose these 16 lbs by time I run my Princess Half in 45 days, YES, YES, YES! I will keep up with these new eating habits. I will keep running and I will get to hot yoga 2-3 times this week as well.
I hope you were all able to get rid of that unwanted holiday cheer around your midsection and I hope the new year has started off on the right foot!
Good Luck this week!